One question we sometimes get at World's Best Massage Chairs (WBMC) is "How will my new chair look next to my existing furniture?" It's a fair question, and it's always important to keep design and color in mind when choosing new furnishings. After all, your new massage chair will hopefully be in your home for years to come, and you want it to fit as naturally as any other chair or couch. At WBMC, we can explain the benefits of each of our chairs, as well as help you find the perfect choice based on your design preferences.
The Bedroom
You may have spent weeks, or perhaps months, searching for the perfect bedroom set. When you finally found it, you couldn't wait to get the bed frame, headboard, dresser, and everything else into the room. Once it was in there, you may have wondered how you ever lived without it. We want you to have the same feeling about your luxury massage chair! First, think about the colors and tones in your bedroom set. Are they dark or light? Has the wood grain been left unfinished, or has it been sanded and sealed? You don't want your new chair to clash, so choosing similar tones and finishes can make it easier to integrate into your bedroom. There are plenty of color options to choose from in our store, and options such as the opens in a new windowPanasonic MAJ7 have rich dark tones.
The Living Room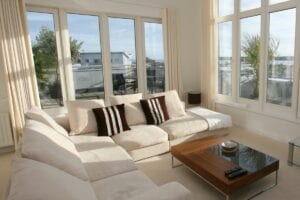 The living room is where you have most of your furniture, and adding a massage chair shouldn't be difficult, given that you have space for it.
Your chair will likely be larger than your couch and the other seating options in the room, but picking a similar color option will help it blend with the other furniture.
Matching your chair involves more than just color, and keeping the size in mind can help you position the chair perfectly within the room. Putting it next to a small armchair can make it seem gigantic, but placing it near the wall or at the end of a large couch can make it appear more normal than it would if it sat on its own.
The Game Room
Many people purchase a chair in order to add it to their house's game room. This is where the foosball, billiards, and other gaming tables are, and having a massage chair in the space can make sense for many customers.
When looking at your game room, think about the finishes that you've added to make the space feel complete. What do the cushions on the pool table look like? What sort of decor or artwork is in the room? Matching your new chair to these components can make it easier to integrate the chair into your space. As for positioning within the room, think about where the chair will get the most use but is still out of the way enough to not be damaged when people are playing pool or foosball. You'll also want to make sure no food or drink can be spilled on it since this is likely where you'll be entertaining people most of the time.
The Home Theater
We've written before about adding massage chairs to your opens in a new windowhome theater, and this is perhaps the easiest room to design when it comes to adding furniture. If you have existing seating in this space, simply choose a chair that matches the finish of those seats. The synthetic leather of the Positive Posture Brio+ comes in black, brown, and cream, so you should be able to find an option that matches your existing furniture. As for positioning, the massage chair isn't likely to be much larger than your home theater recliners, so adding it to the end of the row will make it seem like it's always been a part of the room.
If you've been thinking about ordering a massage chair, but you're not sure how it would look next to your existing furniture, then contact WBMC today. We can answer all of your technical and design questions, and we'll gladly help you choose the perfect chair for your home.
We look forward to meeting you!