Movie theaters today have changed quite a bit from the uncomfortable seats and small screens that were prevalent 15 to 20 years ago. Screens are now bigger than ever, and the seats are often leather recliners that let you watch the latest blockbuster in comfort. You can even have food and drinks delivered right to your seat! There are those who want to bring that modern comfort into their homes by building their own home theater, and how great would it be to have a few seats that were massage chairs? At World's Best Massage Chairs (WBMC), we love helping people find the perfect options for their home, and we know you'd love having a chair or two in your new theater room.
The Optimal Viewing Angle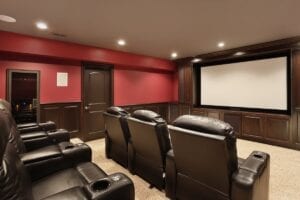 As you set up your theater, you're likely going to research the perfect screens, speakers, and everything else you need to create the optimal space. When it comes to seating, you want to be sure that your chair is at the prime viewing angle so that you don't get a neck ache or backache while you're watching your favorite movies. The optimal angle will depend on the size of the screen you've chosen and how far away from the screen your seat will be placed.
If you're going to sit in a massage chair, it's important to keep in mind that you're going to be reclined most of the time, and you don't want to have to tilt your head down just to see what's happening on the screen. One of the primary advantages of the chairs we offer is that you can set the reclining angle exactly where you want it, and the chair's presets will remember your settings.
Extreme Comfort
When you come home at the end of a long day, or you've had a rough week and all you want to do is decompress in front of the TV, how much better would it be to enjoy a massage while you watch a new movie or your favorite show?
The massaging and vibrating functions won't disrupt your sight so much so that you can't see the screen, and you can program the chair to turn off after 20 minutes or so. After that, you'll be sitting in extreme comfort while you watch the rest of the episode or finish the movie!
Finding the Right Chair
When designing your home theater, you probably have a color scheme in mind, and it's important for your chair to match that scheme. At WBMC, we have a great selection of colors, and the options from D.Core, Panasonic, OHCO, and Positive Posture make it easy to find one that fits your design. If you're not sure whether red or beige will be best, you can always go with black, since black goes with everything!
We'll Put The Chair Together for You
As you're building your home theater, you might be handling some of the construction yourself, while leaving the audio and video setup to the professionals. When it comes to your chairs, we offer free white glove delivery on all of our products shipped within the contiguous United States. The two-person crew will unload the chair from the truck, take it into your new theater room, and assemble the chair in the desired spot. This means that you won't have to worry about moving the chair so that it's in the optimal spot, and you can sit down and enjoy a soothing massage while watching your favorite show or movie.
If you're interested in adding a massage chair to your home theater, keep looking through our Worlds Best Massage Chair site!