If you're someone who loves going to the spa, either for a massage or for a nice mud bath, then you've probably thought about what it would be like to have some of those comforts in your own home. At World's Best Massage Chairs (WBMC), we love helping people find the perfect chair for their living room, bedroom, or office, but what about putting one in your very own "spa" room? Instead of driving to another location and paying for each spa session, you can have a relaxing, enjoyable massage any time you want!
An Indoor Pool
While you may not have the space or the budget for a full-sized indoor pool, it doesn't mean you can't have a small tub or pool where you can enjoy a nice long soak. There are many home whirlpool and spa tub options to choose from, and installing one that's set into the floor can make your new space extra luxurious. You'll want to be sure that you allow for the added moisture that will be produced by the tub or pool, and think about how it could affect your massage chair. Proper ventilation can help with this, or you can set the tub at one end of the room, and the chair at the other.
An In-Home Sauna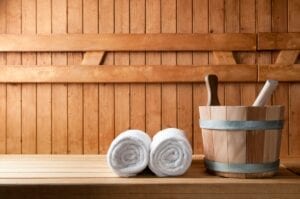 Another popular home spa option is a small sauna. There are many companies out there who make dry and wet sauna booths that can be easily installed in your home. They're often completely modular, which means that you or someone else can put them together in a matter of a few hours. When you want to get a good sweat going, all you have to do is step inside, sit down, and turn up the temperature.
A New Massage Chair
Once you've soaked in the tub or lounged in the pool, or you've spent a few minutes in the sauna, you can dry off and sit in your comfortable new massage chair. The cleansing power of the pool or the sauna can allow your body to rid itself of toxins, and the added benefit of massage can provide optimal health and wellness, as you remove tenderness and soreness from your muscles and help them rebuild. Take a look at the new Panasonic MA-J7
The Finishing Touches
Once you have the tub or sauna, as well as the chair, in place, it's time to put the finishing touches on your new spa room. The artwork and decor should encourage rest and relaxation, and the other furniture shouldn't intrude on the space. You'll want to have storage for towels and hooks for robes, and you may even want to include a stereo system that plays soothing music while you sit in the chair or unwind in the tub. After all, this room is your retreat, your sanctuary from the outside world, and it should feel and function exactly how you want!
If you're thinking about buying a luxury massage chair, then let WBMC help you make the perfect choice. Our catalog is full of outstanding options, and we'll gladly answer your questions about any of our chairs. We offer a 60-day risk-free trial on all our products, so you can try your chair in your spa room and see if it's the right fit for you. If not, you can return it and we'll help you find an option that's more suited to your tastes!
At WBMC, we're dedicated to helping every customer find the right option for their home. If you're building your very own spa room, or you simply want a chair for your living room, look through our selection today.
We look forward to meeting you!