Features
PANASONIC® EP-MA10 MASSAGE CHAIR
2 Head Roller System
The Panasonic MA10 massage chair uses a 2-head, 3D back massage mechanism that allows for pinpoint accuracy.
Compact design meets contemporary styling
To help invigorate and increase blood flow, the MA10 promotes deep muscle relaxation, helps relieve stress. Originally called the "chiro" short for Chiropractic it recreates centuries-old Chinese massage techniques that focus on the pressure points of the neck.
3D Back Massage Mechanism
Able to extend in and out 2.8″ for a deeper massage with multiple intensity levels.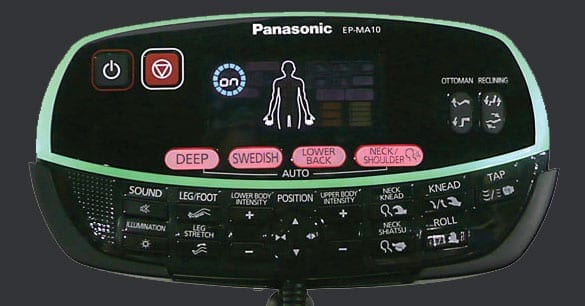 3D Body Scan
Using pressure sensor technology to locate pressure points allowing the chair to adjust the positions of the rollers customizing the massage to your body.
Designed for Direct Neck Massage
Flip the head cushion over to allow the Panasonic 3D massage mechanism to provide a direct neck massage.
Acupoint Detection
You have approximately 350 acupoints in your body, with nearly 100 in your back and neck. From the soothing palm style of Swedish massage, to deep tissue kneading, to Shiatsu massage, the MA10 has a variety of techniques to target acupoints, resulting in invigorating energy.
Four Relaxing Preset Programs
A soothing, convenient choice of four pre-set automated programs use precision massage heads to provide the relief and relaxation of deep, Swedish, lower back and neck/shoulder techniques.
Multiple massage styles.
Swedish gently invigorates and promotes circulation to revitalize muscles and relieve fatigue.
Lower Back delivers a deep, penetrating rubdown for working out lower back tension and stiffness.
Neck/Shoulder replicates Chinese cervical spine massage to zero-in on the neck, erector and trapezius muscles while also stimulating corresponding pressure points to help relieve soreness.
Compression Massage
For the lower body, the air ottoman deploys an airbag circulation system for stretching the legs to provide an exhilarating contoured massage while also enhancing healthy blood flow in the legs, calves, shins and feet.
Back-lit Illuminated Remote
An intuitive remote control is color-coded for quick, convenient massage selection and control.