Before we get into why Panasonic has become such an industry leader in massage chairs, it is critically important to understand that ALL MASSAGE CHAIRS ARE NOT CREATED EQUAL. You will get EXACTLY what you pay for when it comes to massage chair quality and reliability. If you decide that you want to use a massage chair every day but only want to spend $500 on it – then, unfortunately, you will learn the very valuable lesson that my father taught me, "cheap is expensive".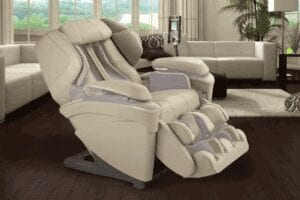 That said, the reason you will see Panasonic massage chairs here at all on this website is due to all of the painstaking time, effort, research, and technology that Panasonic has put into creating their massage chairs. Very simply put – they are arguably the world's best massage chairs.
We all know that Panasonic is without question one of the most recognized and trusted brands in the world today. They are considered a global and iconic electronics giant that has been pioneering new products and improving consumer lives for almost 100 years now. Their innovative technologies, their storied Japanese pedigree, their commitment to product excellence, their painstaking research and development, and of course their overall philosophy that closely reflects our own, "A Better Life, A Better World" for each individual customer, is exactly why you will find them here on The World's Best Massage Chairs website.
In the world of massage chairs, there is no substitute for the quality that Japanese massage chairs provide. Panasonic's lineage offers that exact same quality that you've come to expect from Japanese manufacturers.
The more advanced Panasonic massage chairs feature the opens in a new window4D RealPro Ultra™ mechanism which is present in the MA73. It is yet another example of the incredibly sophisticated engineering and technology that has made Panasonic a global technology titan. In order not to confuse you while you are making your massage chair selection, let me explain why the opens in a new window4D RealPro™ Ultra mechanism is widely considered the most advanced roller mechanism in the entire industry of massage chairs.
To provide a better understanding of just how amazingly intuitive the opens in a new window4D RealPro™ Ultra mechanism is, the advanced roller mechanism is capable of being programmed to physically grasp a pen and actually write on a piece of paper in calligraphy! That means that the opens in a new window4D RealPro™ Ultra mechanism will not only scan your body (X and Y axis) and feel the exact spot where you need to be massaged, but it does so with its precision pressure sensors which deliver the exact amount of pressure (Z-axis) that your body needs to address that stressed area.
It will scan the surface area of your body, warm up the rollers, and then also sense depth perception with a finely tuned pressure sensor. This is yet another reason why the opens in a new window4D RealPro™ Ultra mechanism is widely considered the most advanced machinery in the massage chair industry. So in summary, it can scan your body horizontally (to determine how wide to reach), it will then scan your body vertically (to determine how high and low to reach), and then it will scan your body for how intense to push (to detect just how deep to go with its pressure sensing rollers)
( opens in a new windowVideo of the 4D RealPro™ Ultra Mechanism)