Features
Capable of the deepest most aggressive massage available in any massage chair anywhere on Earth, but can be toned down to be soft and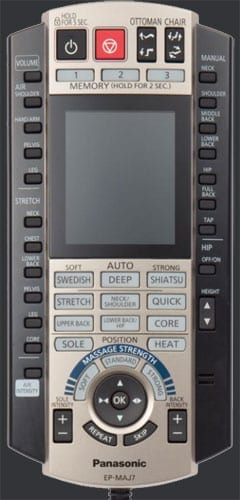 gentle.
The Panasonic Heated Roller System
The Panasonic MA-J7 Massage Chair features innovative "shiatsu rollers with integrated ceramic heaters that don't just heat up sections of the chair but put heat directly on your sore spots.
Full Foot Rollers
The real deal! Reflexology is no joke and the MA-J7 has the latest in foot massage technology.
31″ Roller Stroke
The Panasonic MA-J7 has an updated roller track that is 31" long. It also has an updated ottoman that extends 7.2". This is an increase from other very popular Panasonic massage chair which has a 27″-30″ roller stroke. The longer roller stroke and ottoman length allows the MA-J7 to massage a user between the heights of 4'8" to 6'3".
Amazing Compression Targeting
33 air-cells (many more if you count "accordion" style) inflate and deflate to caress and soothe the neck, back, outer arms, forearms, hands, seat, pelvis, calves and feet.
9 Automatic Programs
Automatic programs include: Swedish, Deep Tissue, Shiatsu, Basic Stretch, Neck/Shoulder, Quick Massage, Upper Back, Lower Back and Deep Core.
7 Customizable Manual Programs
Focus: on the Neck, the shoulders, the mid back, the lower back, the hips, the full back and full tapping.
6 Customizable Stretching Programs
Focus: Neck, chest, lower back, pelvis, legs and core.
Voice Guided Remote Control
Tells you what the massage chair is doing at any given time. Can be turned on or off. Choose 100s if not 1000s of massage combinations to suit your fatigue, stiffness and body type.
Material
The MA-J7 is made using a durable synthetic leather material.
Maximum weight capacity
264 lbs
The MA-J7 provides a complete and total full body massage for: neck, traps, mid back, lower back, shoulder, arm, hand, seat, hip, thigh, Iliotibial band, hamstring, calf and full foot rolling with compression.