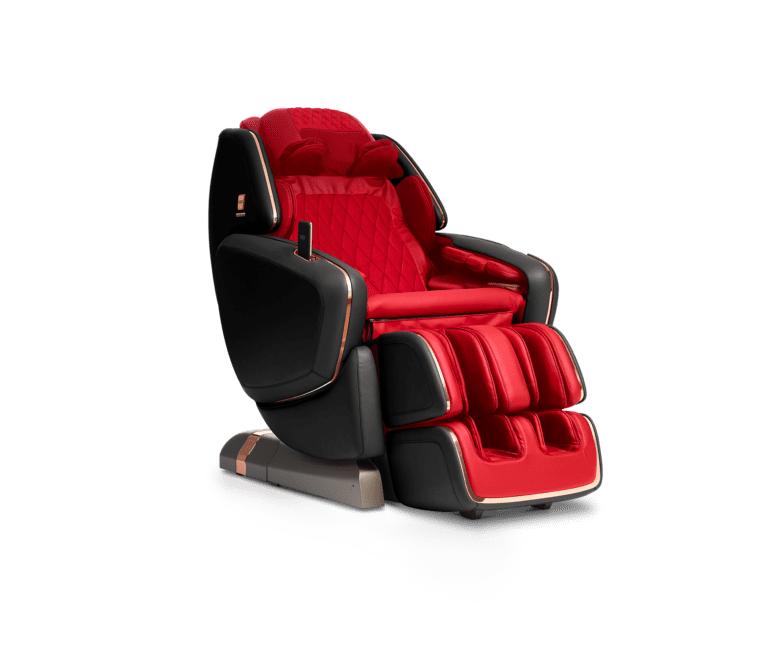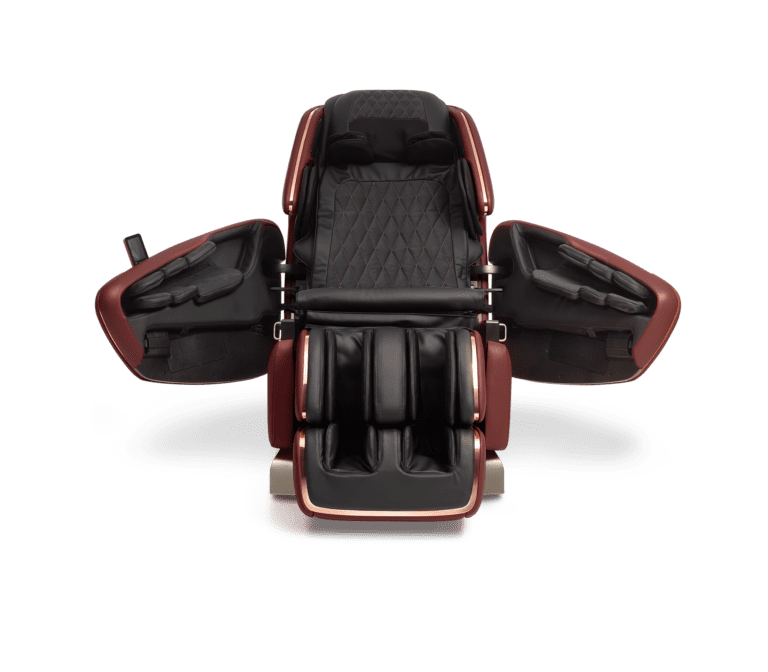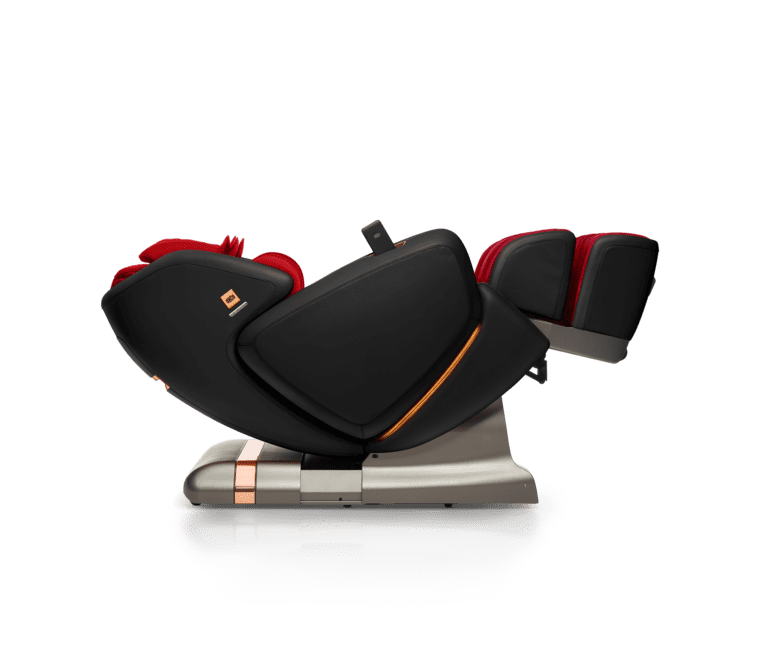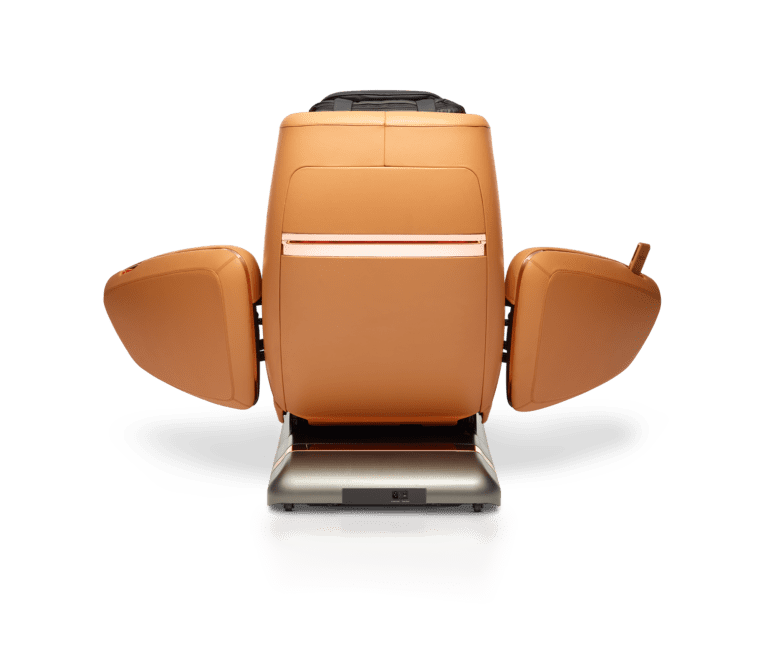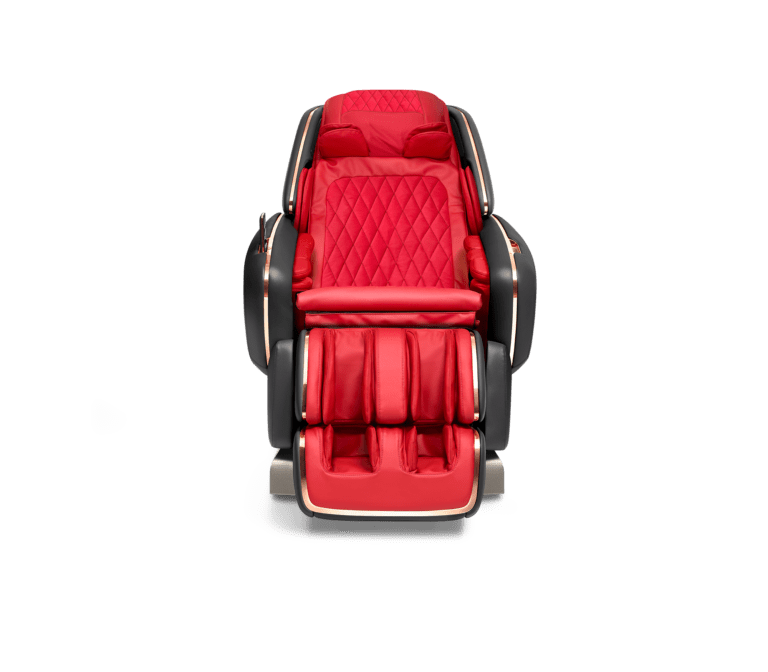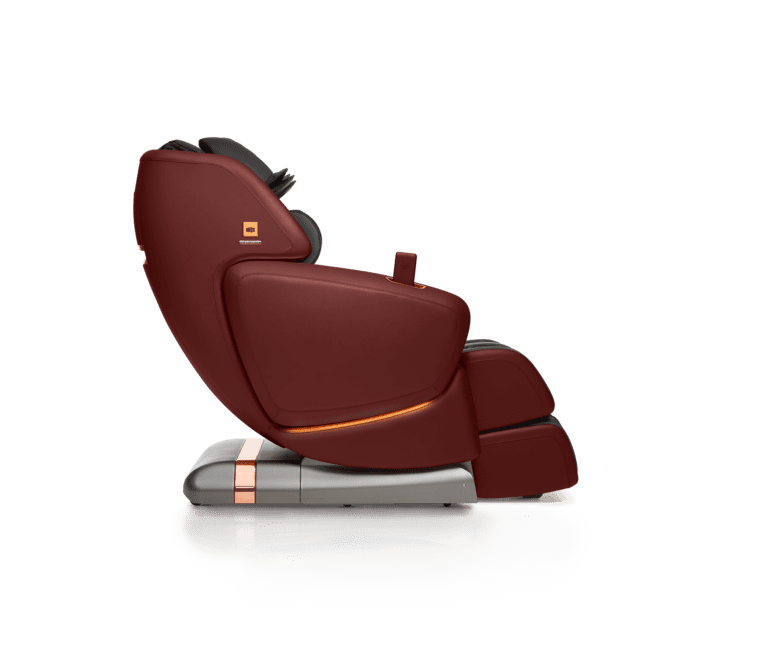 The brand new OHCO M.8LE is a limited edition, genuine leather massage chair that is the latest iteration from legendary Ferrari designer Ken Okuyama and Shiatsu Master Okabayashi Sensei.
While the angled elegance of the OHCO evokes movement, what Ken has created is tranquility in the midst of exquisite engineering as he did with his striking interiors of the shinkansen bullet trains. For Ken, design must be holistic. Genuine leather exterior and Alcantara fabric found only in ultra high end luxury and sports cars on the inside. Very few of these will be produced and signed by Ken himself.
The Ethos of Japanese Engineering, created in a place where the utmost standard of excellence is just the starting point.
For the first time in massage chair history, the arms of the M series open to provide easy entry and exit.
Perfectly choreographed motion from your head to your gluts, full body heat, foot rollers, 6 independent compression cells for the arms, wrists and hands provide 100s of combinations.
Retail Price: $16,000.00






Intensity
Did you know intensity scales can be deceiving? World's Best adds these scales because consumers search this way, but really, the best chairs have the ability to adjust their intensity level across a wider range. If you are looking for a specific intensity, reach out to our massage chair experts and they can walk you through the process of identifying the best chairs for your intended outcome.

















Features
A TRUE COLLECTOR'S ITEM
With production limited to only 2,000 chairs worldwide, each M.8LE is accompanied by a numbered certificate of authenticity from designer Ken Okuyama.
TOP-GRAIN LEATHER & ULTRASUEDE® UPHOLSTERY
The pinnacle of comfort and luxury, the M.8LE features Top-Grain Leather exterior upholstery for superior appearance and texture, along with Ultrasuede® interior lining for ultimate comfort and unsurpassed luxuriant feel.
REAR SWING DOORS
Move into and out of your massage chair with ease and grace. Left and right Rear Swing Doors allow for simple ingress and egress. The first and only of their kind, our innovative doors make getting into and out of your chair easy and relaxing.
SENS8™
At the core of the M-Series lies the technology to transform your entire state of being. Our proprietary Sens8 engine is designed to deliver intuitive and lifelike massage. In addition to basic movements, the Sens8 4D engine uses advanced massage algorithms to mimic the hand movements of a massage therapist.
KNEAD AND STRETCH HEADREST
Experience gentle neck traction as the M.8 headrest lightly relieves pressure on your cervical spine with air-driven neck stretching. Mechanical rollers then work and knead the muscles in the back of your neck. Find relief and help restore neck mobility with every session.
MAXTRACK™
OHCO M-Series massage chairs seamlessly and comfortably massage your back from your neck to your hamstrings in the upright, zero gravity, lay flat and in every position in between. They also deliver an excellent full body stretch.
THERAELLIPTICAL™ Calf Kneading
Let tension melt as complex movements mimic the hands of a shiatsu master, gently compressing and kneading your calves. This powerful and soothing capability enhances circulation, leaving your calves refreshed and renewed.
AIR IONIZER and WHITE NOISE GENERATOR
Clear the air and clear your mind. Enjoy each clean breath you take as the Air Ionizer removes dust, dander, spores and other irritants. Located in the headrest, a small fan moves ionized air through the vent port, echoing the sound of faint ocean waves.
AROMATHERAPY
Add a few drops of your favorite essential oil to the M-Series headrest diffuser to bring an aromatic dimension to your escape. As you settle in and breathe, your sensory receptors immediately begin to send relaxing signals to your subconscious; elevating your entire OHCO experience.
M-SENSE LIGHT POOL
The M-Series acknowledges your approach. Upon your arrival, the M-Sense Light Pool bathes the floor around your chair in a soft glow, illuminating the path to your OHCO experience. The M-Series uses motion sensors and a warm LED beckon for a welcoming and luxurious invitation.
BLUETOOTH AUDIO IMMERSION
Heighten your experience by connecting your smart device to play relaxing sounds, music or your favorite guided meditation.
Specs