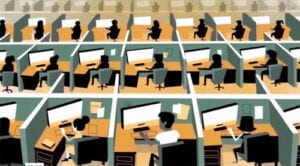 Increasingly we are seeing companies buy workplace massage chairs for their employees to utilize. Not only are massage chairs a fantastic company perk, they are an investment to help reduce the costs associated with workplace stress.
Long hours, seemingly impossible demands, and uncertain job security can take their toll on employees' mental and physical well-being. This stress only accumulates over time, and leads to any number of ailments from headaches, bodily pains, and job-impacting anxiety. In extreme cases, the consequences can be even worse: High blood pressure, alcoholism, and even some instances of mental illness can come as a result.
The impact to the organization can be measured not just in job satisfaction but in real dollars. The current cost of healthcare costs annually top a staggering $190 billion; in fact, in recent years General Motors spent more on healthcare costs than on steel.
The question is: Can a workplace massage chair provide compelling benefits for the organization in helping to reduce these costs, and help invigorate company culture as well?
Benefits of Workplace Massage Chairs for Employees
Providing employees with a way to safely and easily escape workplace stress can do wonders for the overall health and well-being of employees. Just a quick 15-minute session – whether a quick back massage or a full-body massage can result in many benefits that counteract the impact of workplace stress:
Help employees instantly lower stress and release anxiety
Enable workers to achieve deep mental relaxation in just a few minutes
Provide employees moments of calm and tranquility throughout the workday to increase performance and decision making
Help to improve worker concentration, and better react to occurrences of workday strain
Help increase brain activity and counteract the impact of sluggishness due to longer working hours
Increase the creative output of employees through quick sessions in a massage chair
HR Benefits of Workplace Massage Chairs
The benefits to those responsible for managing the health and well-being of employees are just as compelling as those for the employees themselves. Massage chairs located within the organization – whether in break rooms, lobbies, or in select conference rooms can help transform corporate culture, and make the jobs of HR managers easier. There are various studies that support this.
Making workers more engaged:
Glassdoor's 2015 Employment Confidence Survey found that 79% of respondents said additional, thoughtful perks would be even more helpful to their workplace engagement than a pay raise. Further, a 2016 Aflac Open Enrollment Survey found that almost 9 out of 10 millennial's who are satisfied with their benefits package report high job satisfaction, compared to only 27% who are "not" or "not very" satisfied with their benefits.
Making it easier to recruit new employees:
A study featured in the corporate philosophy book, First, Break All The Rules, found that 60% of employees reported that benefits and perks are a major factor when appraising job offers. This is even more true for the upcoming workforce of millennial's, as 72% have reported they are more likely to take a job with better benefits over a job with better pay, as discovered in the 2016 Aflac Open Enrollment Survey.
Increasing Worker Performance:
The University of Miami School of Medicine discovered in a study findings that really hit home. It found that 15 minutes in a massage chair enhances measurable EEG brain activity in adults. In addition to changes in the brain scans, these adults performed more quickly and accurately in mathematical testing after receiving the massage, while groups without massage showed no improvements. This means regular massage can likely enhance employees' mental capacity to grow their skills and learn new responsibilities.
Decrease employee turnover:
Anyone who has been responsible for a workforce knows well the costs and headaches associated with employee turnover. Four years after implementing a wellness program, the Biltmore Tourism Enterprise experienced a drop from 19% turnover to just 9%. Their director of benefits and compensation has stated, "Employees who participate in our wellness programs do not leave." In general, organizations that engage employees with wellness benefits, such as in-office massage chairs, have turnover rates 44% lower than average.
Decrease Corporate Healthcare Costs:
The Cedars-Sinai Medical Center analyzed blood samples of individuals before and after massage, and found a large increase in white blood cells, a major part of the immune system that fights disease. In addition, there were chemical indicators of improved mental health, including higher levels of dopamine and serotonin, the hormones that increase happiness, and lower levels of cortisol, the primary stress hormone.
Decrease Work Injuries:
The Financial Times reported that a company in Ontario, Canada, experienced a decrease of $200,000 in worker's compensation claims and 25% in time off for work-related injuries after implementing a massage program. The Group Health Research Institute found that massage recipients with chronic back pain (the most common area for workplace strain or injury) were more active, spent fewer days in bed, and used less pain medication than those who did not receive massage treatment.
The Bottom Line on Workplace Massage Chairs
The bottom line is that the benefits of workplace massage chairs are a compelling strategy in helping to improve the performance of workers and to decrease on-the-job stress and anxiety. There are signals as well that workplace massage chairs help employees perform at optimal levels of output. The case for workplace massage chairs as it positively impacts the jobs of HR managers can be measured as well.
Today's massage chairs provide the life-like experience of human massage, and even incorporate creative brainwave programming that can have a positive impact on a variety of employee issues, as well as make for a more dynamic corporate culture. We have many cases of corporate customers who have successfully deployed workplace massage chairs, from large Fortune 500 companies, to leading hospitals, universities, and several professional sports teams.