Features
Experience the sensation of a professional massage by warm hands, right in your living room.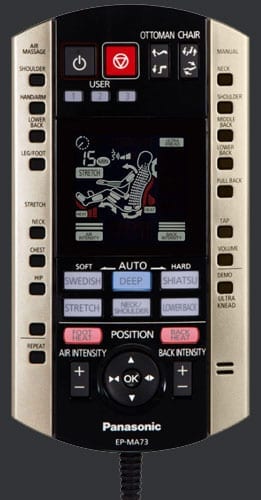 The Panasonic Heated Roller
The Panasonic MA73 Massage Chair features innovative "shiatsu rollers with integrated ceramic heaters" that travel up and down your back to give you a deep, warm, "3D" massage.
31″ Roller Stroke
The Panasonic EP-MA73 has an updated roller track that is 31" long. It also has an updated hideaway ottoman that extends 7.2". This is an increase from other very popular Panasonic massage chairs, which has a 30" roller stroke, and ottoman that extends 5". The longer rollers stroke and ottoman length allows the EP-MA73 to massage a user between the heights of 4'11" to 6'4" while others have a height requirement between 4'8" to 6'
Amazing Air-cell Compression
33 air-cells inflate and deflate to caress and soothe the neck, back, outer arms, forearms, hands, seat, pelvis, calves and feet.
Automatic Programs
These automatic programs: Refresh, Deep Program, Shiatsu Program, Hip Program, Neck/Shoulder Program, Lower Back, Ultra Kneading target fatigue, stiffness, and individual body type
6 Manual Programs with 100s of combinations 
Junetsu, Ultra Kneading, Shiatsu, Kneading, Swedish, Rolling, and Tapping programs all provide your body with an absolutely incredible massage experience
4 Stretching Programs
Neck, hip, chest and full body
Voice Guided Remote Control
Choose one of 108 massage combinations to suit your fatigue, stiffness and body type and the remote will let you know what it's doing.
Rotating Ottoman
The calf and foot massage unit rotates away, transforming this powerful massager into a handsome and traditional recliner.
Material
The EP-MA73 is made using a durable synthetic leather material.
Maximum weight capacity
264 lbs
The EP-MA73 provides a complete and total full body massage for: neck, traps, mid back, lower back, shoulder, arm, hand, seat, hip, thigh, Iliotibial band, hamstring, calf and foot
Full rolling heat and stretching